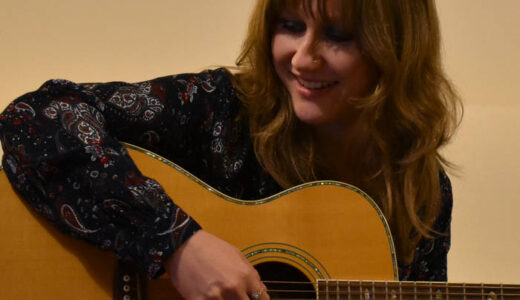 Hello, my name is Holly Taymar.
I'm a guitarist, singer, songwriter and Mama based in York, UK.
Since 2004, I've been writing and performing music both as a solo artist and as part of my duo, 'The Bronze', with my husband Chris Bilton. I'm currently performing solo while we collaborate on raising our daughter, Ripley.
Through my early beginnings learning my craft at acoustic nights across the UK, somewhere along the line I started to make beautiful music. I can (and do) write about pretty much anything – gardening, housemates, other people's jobs, cats. Everything has a soul, doesn't it? I like to give people, places and feelings a voice in music.
Some of my proudest things:
Played to thousands of people in gig venues, festivals, weddings, funerals and hospital wards (meeting many firm friends along the way)

BBC 6Music airplay from Tom Robinson

BBC Radio 2 airplay from Steve Lamacq and Sir Bob Harris

Written, recorded and self-released 5 x albums of original music 

First Class Honours degree in Performance: Music

Raised thousands of pounds for charities with my donation based cover request challenge, 'Holly Jukebox'
Cliché alert: Music truly is an integral part of my life.
When everything else falls away, music has always been there for me and never asks anything in return. It's in my heart, my head and my hands. A permanent companion that helps me make sense of the world around me.
I look forward to sharing my sounds with you.
'Measured and beautiful ' Tom Robinson, BBC 6Music
'Immediately engaging'
Acoustic Magazine
'Beautifully understated'
R2 Magazine